Landmarks
The Gas Yard
The gas yard was within the brick walls still standing at the bottom of the park by the Faversham Road. It stood near the site of an old manor house (presumably Whitemans), the foundations of which were still evident in the 1930's. Initially, coal gas was produced here; later, acetylene gas was stored in a Gasometer within the yard and piped up to Doddington Place. The pressure was regulated by a series of three pulleys, wheels, ropes and weights. The carbide was transported from Teynham in 1CWT steel kegs. When the steel barrels were opened - by chiselling off the tops - the carbide was removed for use in egg-sized lumps.
Mr J Wildash, a resident of the village, worked at the gas yard in 1936 at the age of 16/17 years. His grandfather, Mr Kite, was the game-keeper for Sir John Croft at Doddington Place. The role of the gas yard workers extended to keeping animals, such as poultry, pigs and sheep, to supply the 'big house' and for retail sale. The workmen were also responsible for the upkeep of paths, hedges, verges and stiles on the estate.
The production of gas at the yard ceased when the town gas was piped to the village, although it was occasionally used as a back-up pressure retainer when the town supply proved inadequate.
Later, the yard was used for the production of compost for the Mushroom Farm. Recently, it was transformed into a wood yard for a short period.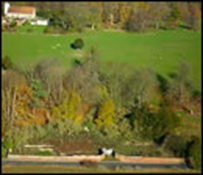 The War Memorial
The villages of Doddington and Newnham are closely allied to each other; at one time, the Street on the south side was part of the Parish of Newnham. In 1919, the villages jointly erected the simple but imposing memorial on the boundary between the two parishes.
It is inscribed:
"In grateful memory of the men from Doddington and Newnham who gave their lives for their country in The Great War". The names of the heroes face the village from whence they came. Further inscriptions were made following the Second World War. The Memorial reminds us of the great sacrifice made by these men to ensure our freedom.
The Playing Field
This was dedicated forever as a public recreation ground and playing field for the children of the parish of Doddington on the 20th November 1929, by Robert Douglas Leigh-Pemberton. In July 1984, Robin Leigh-Pemberton (Lord Kingsdown) agreed that the field could be used by persons of all ages.
Mrs Clara Attenborough remembers the playing field being dedicated to the village by Mr. Leigh Pemberton when she was twelve years old. The Vicar of the time held a service for the dedication and many trees were planted.
in 2022 The Parish Council, at the request of local residents and thanks to a number of generous donations from a variety of different bodies, arranged for a more modern "Toddler Tower" to be bought for the enjoyment of the children in the village.